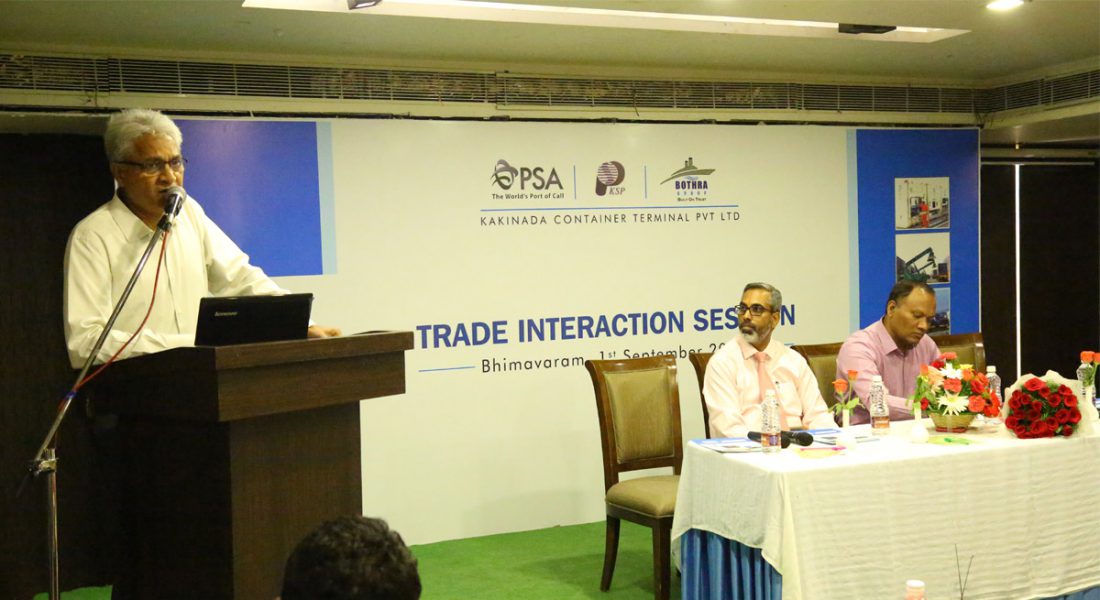 Bhimavaram Trade Meet
Kakinada Container Terminal (KCT) conducted a Trade Interaction session in Bhimavaram on 01st September,held at Hotel Ananda Inn, the session was attended by shipping lines and service providers  from Mumbai, Chennai, Kolkata, and come in from Vizag.  The Joint Commissioner of Customs Shri. S N Reddy was the Guest of Honour.  The shrimp export fraternity present included senior members including Managing Directors Mr. Surya Rao, Mr. Anand, Mr. Ramesh Varma, Mr. Jagadeeh, and Mr. Srinivasa Raju.
MSC Line had a prominent presence, and Mr. IndrajitSengupta, President, Marketing introduced his team. Mr. Krishnakumar, Regional Manager MSC also made a presentation profiling the line, its management and impressive array of services and announced  the reefer services from Kakinada.
Representatives of other lines present also spoke: Mr. Vignesh Krishnan of Maersk stated that the line has been growing at this location and were watching the development. Mr. Eshwar of BLPL, while stating the leading role their line was playing at this port, stated that they were bringing in a second and larger import consignment the very next week.  Others who spoke included Mr.Santosh representing Hyundai, and Mr. Rajesh Gujjarlapudi, MD of Seashell Ltd., Mumbai who stated that they are already have representation in Bhimavaram and Kakinada, among many other locations.
It was the Hon. Joint Commissioner Mr. S N Reddy who earlier enthused the gathering, underlining the user friendly nature of the Customs.  He stated the achievement and recognition Kakinada Customs had received on a pan-country basis, and also introduced his officers who were present who were located close to the trade at Bhimavaram.
The introduction by Mr. M Muralidhar, Director, KCT had set the ball rolling, just after the start of the meeting. Mr. M Suresh Kumar, President, Bothra Shipping also spoke on behalf of the port. Mr. P Balakrishnan made a brief presentation profiling KCT.
The general refrain of the trade was that enhanced services at Kakinada would be a welcome development especially due to the proximity of Kakinada to the cultured prawn producers.